Sy Kessler Sales – Kessler Batteries division worked together with Sony & Murata as their Importer and Master Distributor to introduce the Sony and Murata brands into North America.
Surpassing production of over 10 billion silver oxide batteries by 2017, today these very same high-quality batteries are available only under the Murata brand.
Almost one out of every two watch batteries sold today is made by Murata! 
Murata is recognized as The Global Leader in both the Original Equipment and Replacement markets for watch batteries.
As the Environmental Leader, Murata invented the world's first mercury-free silver oxide watch battery in 2004, and together with their mercury-free alkaline button cells, Murata eliminated tons of mercury from the waste stream.
As the Consumer Product Safety Leader, Murata introduced the world's first child-resistant lithium battery tear strip packaging.
As the Performance Leader, Murata offers longer-life silver oxide batteries, featuring the best anti-leakage system in the industry.
All silver oxide batteries are available exclusively in our premium black-label packaging.

All silver oxide, lithium, and alkaline batteries are conveniently packaged in tear-strips of 5 cells.

A Best Before / Use By date is openly printed on all Murata battery packaging.

Unique UPC data is marked on each individual tear-strip increment, carton, and master carton.

Murata batteries are conveniently available from stocking distributors and dealers throughout North America.
Offer your customers the best: MURATA brand watch batteries!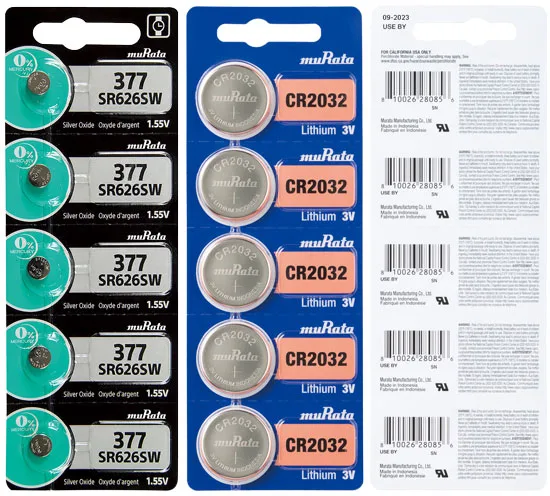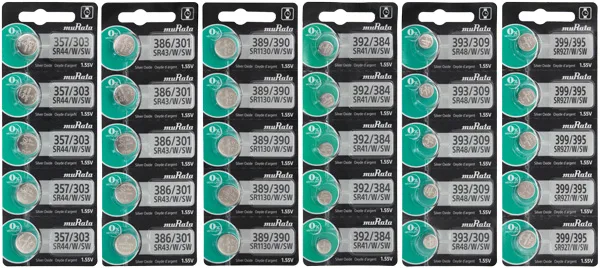 Murata offers a "Smarter" Multi-drain System, reducing the number of SKUs required without compromise.
WATCH BATTERY REPLACEMENT INSTRUCTIONS
Presented by Kessler Batteries (sponsor) and Murata. Created by The American Watchmakers Clockmakers Institute (AWCI).
"Having sold millions of watch batteries to a wide variety of customers, we have grown to become a reliable source for honest and accurate information regarding the quality of the products we sell while striving to provide our customers with the best products in all categories at a great value. This recently became more of a challenge when customers were reporting shorter than expected battery life and battery leakage issues. After noticing a pattern with a particular watch battery brand, the decision to switch to Sony became a no-brainer. Sony's long-lasting battery performance and antileakage technology allows us to offer our customers a battery that has them coming back wearing smiles, not looking for excuses."
"Our family has been selling and repairing watches for over 70 years. Many high-end brands lean on our expertise to delivery top-quality service. To guarantee long-lasting battery life, we trust Sony."
"Our customers aren't thinking about batteries when they buy our watches, but they all have expectations for battery life. It's our responsibility to provide the longest lasting batteries that the market can provide. That's why I use Sony hundreds of times a day."
"We have performed thousands of watch battery exchanges using only Sony batteries because my customers deserve longer lasting batteries."